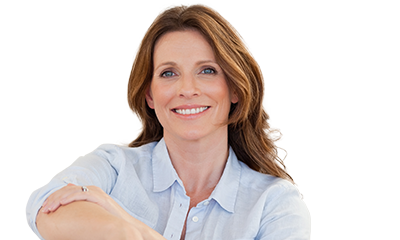 Need a smile makeover?
Replace missing teeth with
Porcelain Crowns in just 2 visits.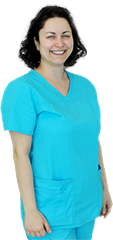 "Many patients opt for the high aesthetic Ivoclar E-max crowns and bridges which offer the best aesthetic result. Thanks to the large number fitted at the clinic we can offer the crowns and bridges for a significantly lower price." Dr. Susan Revesz
Porcelain (ceramic) crowns (also known as caps) and bridges are commonly used in dentistry to restore damaged, broken teeth or replace missing teeth. To achieve the best aesthetic result, at SODC Dental Clinic we only use superior materials to produce crowns and bridges. You may opt for the common porcelain bonded crown/bridge, which is made of high quality porcelain with a non visible inner frame made of a anti allergic metal alloy. For a better aesthetic result you may also opt for completely metal free crowns and bridges.
Metal free crowns and bridges Premium quality Zirconium and Pressed Ceramic SODC Dental Clinic uniquely offers different metal free restorations for the same discounted price. We use Ivoclar E-max premium quality pressed ceramic for crowns, bridges and veneers as well. This material is proven to guarantee the best aesthetic result especially in the prominent front area. As an alternative we also offer Zirconium crowns and bridges for the same price.
Dental Crowns will improve the aesthetic function and overall health of your mouth.
The perfect way to strengthen and protect damaged, cracked and work tooth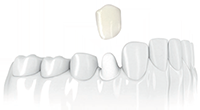 A porcelain crown restores any tooth that is destroyed or damaged. It is individually made to match the shade and contour of your natural teeth, so practically no one can tell the difference. The tooth is ground down far enough so that a new crown can be placed on the remaining, healthy natural tooth structure. This provides a strong, natural foundation for the new crown.
When do you need a porcelain crown?
To strengthen a decayed, cracked or broken tooth.
To protect a tooth that's at risk for cracking. This measure helps to prevent problems such as pain and/or the need for a root canal.
To improve the appearance of the tooth.
To improve the cleansibility of a tooth.
After a tooth has root canal therapy.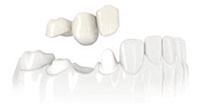 A porcelain bridge is used to replace any tooth that is missing or beyond repair. It is individually made to match the shade and contour of your natural teeth, so practically no one can tell the difference. This bridge consists of high-strength dental ceramic. Built with natural-looking replacement teeth, it is anchored to the adjacent teeth. To secure the bridge, the adjacent teeth must be reduced in size.
Dental bridge benefits!
A fixed bridge is stationary. You don't need to take it out at night.
It looks like your natural teeth.
It's comfortable and doesn't move when you're chewing.
It anchors and supports your neighbouring teeth; keeps teeth aligned; and restores your mouth to a level of prevention.
Have a specific question?
Top 10 questions:
Crowns are an ideal restoration for teeth that have been broken, or have been weakened by decay or a very large filling. A crown could be used for a number of other reasons, for instance: you may have discoloured fillings and would like to improve the appearance of the tooth you may have had a root filling which will need a crown to protect it it may help hold a bridge or denture firmly in place.
The following materials are used for making crowns ( the same materials are used for bridges, inlays and onlays ): Porcelain bonded to precious metal or non-precious metal: A metal base is made and then porcelain is applied in layers over it. For the metal frame a cobalt chrome alloy, or a gold alloy is used. Pressed ceramic-porcelain crowns: At SODC Clinic we use Ivoclar E-max pressed ceramic crowns which are made of a special silicate used in dentistry called Lithium disilicate. This material is stronger and looks more natural than common porcelain, therefore offers a superior aesthetic result and improved durability and stress bearing. Zirconium crowns: The crown is carved from a Zirconium dioxide-porcelain block with computer aided manufacturing. This forms a Zirconium dioxide base and porcelain covering. Zirconium has a light colour which allows the complete crown to appear more natural, brighter than common metal based crowns thanks to higher transparency. Zirconium is also stronger and more durable than the common metal alloy. Composite crowns: for crowns an inferior choice is composite material which we don't use at the clinic.
We offer substantial savings on dental crowns. Our prices are 75% cheaper than UK, Ireland or Scandinavian countries. To receive a preliminary quote simply fill in our form and we shall within 24 hours send you a personalized quote, or attend our FREE Dental Day in Budapest at No Cost & No Obligation!
The treatment is completed in 5 weekdays. You need to visit the dentist 2-3 times during this time. If you stay in Budapest for the whole treatment time we suggest Monday to Friday stay. Alternatively you can split visits to two short visits with at least 4 days between.
How long your crown lasts depends on how well you look after it. The crown itself cannot decay, but decay can start where the edge of the crown joins the tooth. Therefore, it is important to keep this area just as clean as you would your natural teeth in order to prevent decay affecting the crown.
Properly cared for crowns should last for 10-15 years.
Though common porcelain bonded crowns have a metal inner frame but a so called porcelain shoulder is applied (free of charge) which covers all edges to make sure metal will never show even is the material starts to wear away. Otherwise you may opt for completely metal free crowns for a superior aesthetic result.
In root-filled teeth it may be necessary to insert a post before placing a crown. A post provides support and helps the crown stay in place. The weakened crown of the tooth is drilled off at the level of the gum. A post can be made of prefabricated stainless steel which the dentist can fit directly into the root canal, to help secure the crown, or a custom-made post can be constructed by the dental technician to accurately fit the shape of the prepared root canal. The post is placed into the root canal and cemented in position, ready for the crown to be attached.
No. A local anaesthetic is used and the preparation should feel no different from a filling. If the tooth does not have a nerve, and a post crown is being prepared, then a local anaesthetic may not be needed.
No. The crown will be made to match your other teeth exactly. The shade of the neighbouring teeth will be recorded, to make sure that the colour looks natural and matches the surrounding teeth. You may also match the treatment with whitening or veneers on other teeth to achieve a brighter smile.