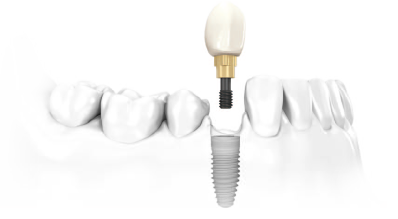 You don't need a £1 million
to get dental implants.
Dental implant £390 with 15 years guarantee.
What is a dental implant?
Dental implants are the nearest thing to natural tooth functions available in dentistry at this time. Using the same principles and material used in joint replacement surgery, dental implants are securely anchored into bone and will attach to single or multiple replacement teeth. Implants are also used to anchor full-mouth dentures.
Benefits of dental implant.
implants feel more comfortable, secure, and natural then removable tooth
replacements such as a partial denture.
implants allow you to eat what you want.
implants give you the confidence to freely laugh and smile with ease.
implants will stop the jawbone from shrinking, which in turn stops premature facial aging.
Implants are long lasting,
strong and indistinguishable from natural teeth.
They look and behave the same way as "real teeth" and can hold a single tooth or several via an overdenture or a bride.
Get answers from the
people who know it best!
Get answers before you decide.
Our knowledgeable Support Staff are available to answer all your questions, concerns to make your decision easier to choose an abroad dental clinic you feel comfortable with.
Just call us at +44 203 318 5606.
Or simply send us an e-mail.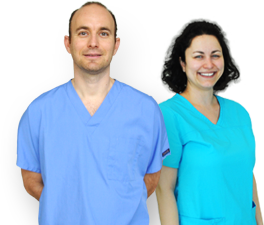 Free Airport pick-up!
When you arrive we will wait for you at the airport regardless of day or time. We will drive you from your hotel to the clinic for all your dental appointments. Ask our drivers about the city they always know whats happening.





Have a specific question?
Top 10 questions:
We offer substantial savings on dental implants. Our prices are 75% cheaper than UK, Ireland or Scandinavian countries. To receive a preliminary quote simply fill in our form and we shall within 24 hours send you a personalized quote, or attend our FREE Dental Day in Budapest at No Cost & No Obligation!
Clinical research shows a lifespan of over 25 years for implant supported tooth restorations. As with natural teeth, good dental hygiene and regular checkups are most important to maintain healthy implants.
Implant success rates throughout the world vary between 90-95% during the first 5 years. Alpha-Bio Tec can proudly say that our success rate is 99.8%!
Although each patient reacts differently, most people experience minimal discomfort, which may or may not be accompanied by slight swelling that disappears with a day or so.
Absolutely! Chewing ability may even be increased due to replacement of missing or diseased teeth with implants.
With most treatments you can save 50-70% compared to UK and Irish prices, even with the travel and accommodation cost taken into account. Most of our patients visit us for implants or other oral surgery and cosmetic treatments like crowns, veneers. Visit our page of case studies to see real life examples for the saving in case of implants and other treatments.
In the unlikely case that you require more extensive work we suggest to take immediately contact with our clinic to rectify the problem.
The treatment time in case of implants depends on many factors. Most implants can be fitted immediately and even along with final prosthesis to make up for the lost tooth/teeth. To assure the lifetime of the implant SODC Clinic offers and promotes the treatment done in stages as the implant screw should integrate and fuse to the jawbone before taking full load and pressure of chewing and biting. Therefore the usual treatment routine of implants is 2-3 visits in 3-4 month time.
It depends on the state of the bone in your jaw. Your dentist will arrange for a number of special tests to assess the amount of bone still there. If there is not enough, or if it isn't healthy enough, it may not be possible to place implants without grafting bone into the area first.
The procedure is painless, the treatment is done under local anaesthesia. The surgery is quick and only a small incision is made on the gum surface to place an implant. As a normal side effect of a surgery you may notice pain during healing, for which you will be given painkillers after the surgery free of charge.