New denture that feels comfortable,
attractive and natural.
Restore your life with modern dental technology.
Dr. Susan Revesz
Lead Cosmetic Dentist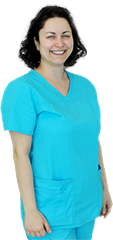 Inexpensive way to replace a mouthful of missing teeth.
Dentures are false teeth, made mostly of plastic, that replace missing or lost teeth. Dentures are a solution of last resort. Many people assume that they will need dentures as they age, but losing teeth is not a normal part of the aging process.
Unsecured dentures are an old-fashioned solution for people who have lost all of their teeth. Unfortunately, you may find that wearing unsecured dentures can be painful, inconvenient and awkward. Such dentures make it difficult to chew a variety of foods, which can stop you from eating many of the foods you once enjoyed. Wearing dentures many also affect how you pronounce words and therefore the way you speak.
Why old fashioned dentures are not the answer.
Strong healthy teeth are important for health and well-being.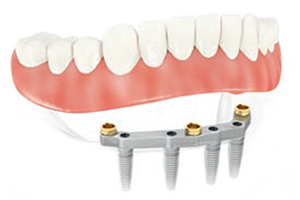 Overdenture on an implant bar.
For an even more secure fit, a dental bar is fixed to your jaw bone with two or more implants, providing stronger support for your removable dentures. Your new teeth can be removed for cleaning and the need for denture adhesives is eliminated. Dental implants are accepted by dental professionals for over 40 years, as a successful and trusted method of tooth replacement used today.
Advantages:
dental implants act like your natural tooth root
your implants will normally last a lifetime
maintain natural bone, minimize further bone loss
provide stability and comfort
vs.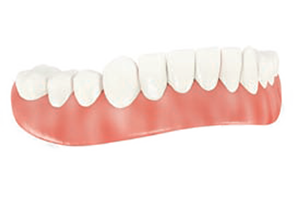 Old-fashioned dentures.
Dentures are removable replacements for missing teeth typically made out of an acrylic resin which at times incorporate porcelain or metal for additional structural support. There are two main types of dentures. Both full dentures and partial dentures are finely crafted, custom-fitted. If you properly maintain your dentures they will appear natural and provide a perfect smile.
Disadvantages:
mouth irritations, soreness
short lifetime, continuous maintenance
quicker bone loss
chewing difficulties, reduced taste of food
Get answers from the
people who know it best!
Get answers before you decide.
Our knowledgeable Support Staff are available to answer all your questions, concerns to make your decision easier to choose an abroad dental clinic you feel comfortable with.
Just call us at +44 203 318 5606.
Or simply send us an e-mail.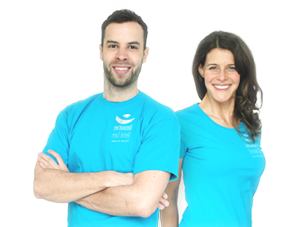 Free Airport pick-up!
When you arrive we will wait for you at the airport regardless of day or time. We will drive you from your hotel to the clinic for all your dental appointments. Ask our drivers about the city they always know whats happening.
Have a specific question?
Top 10 questions:
The base of a denture is called a plate and can be made of either acrylic (plastic) or metal. The teeth are normally made of acrylic and can be made to match your natural teeth. This is especially important in the case of partial dentures.
We offer substantial savings on Dentures. Our prices are 75% cheaper than UK, Ireland or Scandinavian countries. To receive a preliminary quote simply fill in our form and we shall within 24 hours send you a personalized quote, or attend our FREE Dental Day in Budapest at No Cost & No Obligation!
Replacing missing teeth should make eating a more pleasant experience. Start out by eating soft foods that are cut into small pieces. Chew on both sides of the mouth to keep even pressure on the denture. Avoid foods that are extremely sticky or hard. You may want to avoid chewing gum while you adjust to the denture.
It can be difficult to speak clearly when you are missing teeth. Consequently, wearing a partial denture may help. If you find it difficult to pronounce certain words with your new denture, practice reading out loud. Repeat the words that give you trouble. With time, you will become accustomed to speaking properly with your denture.
Dentures can be made to closely resemble your natural teeth so that little change in appearance will be noticeable. Modern dentures may even improve the look of your smile and help fill out the appearance of your face.
For the first few weeks, your new partial denture may feel awkward or bulky. However, your mouth will eventually become accustomed to wearing it. Inserting and removing the denture will require some practice. Follow all instructions given by your dentist. Your denture should fit into place with relative ease. Never force the partial denture into position by biting down. This could bend or break the clasps.
The fixed denture means, that a horseshoe denture is locked onto the implants. The denture is not moving, or floating but whenever you wish you can remove it without the help of a dentist.
Implants sit in the jawbone, therefore the quantity of bone mass is one crucial aspect of the treatment. Fortunately in 98% of the cases we were able to fit implants with success thanks to our improved treatment routine.
The most common implant denture structure is complete top or bottom set replacement with 4 implants in. The all inclusive cost without discounts of this treatment is 3,370 GBP (3,835 EUR) for one jaw with the Alpha Bio DFI implant system. Contact our patient support office for details about this treatment.
There are some obvious symptoms like discomfort in the cheeks and gum, or movement during speaking or eating. Sore gums or ulcers indicate a badly fitted denture as well. But there are many cases when symptoms seem irrelevant to the original cause like stomach problems. With a badly fitted denture food is not chewed well, which can lead to stomach ache or bloating from indigestion.